Sonia Quaratino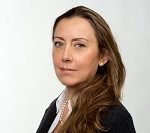 Company: Kymab
Job title: CMO
Bio:
Dr. Sonia Quaratino joined Kymab in 2017 as Chief Medical Officer, responsible for the clinical strategy and execution of Kymab's first-in-class and innovative programs in immunology and immuno-oncology through pre-clinical and early stage clinical trials. Dr. Quaratino brings to Kymab over 25 years of experience in industry and academic research with a broad experience as a clinical leader developing both cancer vaccines, small molecules and antibodies for solid and haematological malignancies. Before Kymab, Dr. Quaratino served as Global Clinical Program Leader at Novartis in Basel , developing early phase immuno-oncology programs including antibody therapeutics for solid tumours. Prior to that, she was Senior Medical Director in Oncology Early Clinical Development and Advisor in Immunology at Merck Serono in Darmstadt where she led Phase 1 and Phase 2 oncology and immuno-oncology clinical trials.
Dr. Quaratino is also an accomplished scientist, having served as Professor in Immunology at the University of Southampton, her primary research focus was on the molecular and cellular mechanisms underlying the pathogenesis of chronic immune mediated diseases.
Dr. Quaratino received her M.D. from the University of Palermo School of Medicine, completed her doctorate in haematology and oncology between the University of Palermo and Imperial College London and was awarded a PhD in Immunology at Imperial College.
Seminars:
OX40L: A New Target in the Treatment of Dermatological Diseases? 12:15 pm
· Giving background on OX40L in autoimmune diseases · Introducing KY1005, a novel fully human anti-OX40L blocking antibody and preclinical data supporting the MOA · Exploring the scientific rationale for targeting OX40L in atopic dermatitisRead more
day: Day One

Opening Keynote Panel Discussion: What's Next in Dermatology Drug Development? 9:00 am
• Establishing the current landscape and state-of-the art in dermatology drug development – latest advances and challenges • Lessons learned for rational and effective drug development in dermatology – discussing a 'blueprint' of what success looks like in dermatology drug development • Analysing the end-to-end pain points that accompany dermatology programs – from improving preclinical…Read more
day: Day One